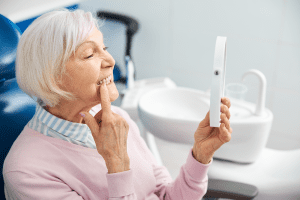 One of the most important aspects of your overall oral health is keeping your teeth and gums clean and strong. To help in this effort, we provide dental cleanings and exams for your entire family. The goal of dental cleanings and exams is to provide preventive measures to stop tooth decay before it emerges while also beginning any necessary treatment planning. Dental cleanings and exams are performed by one of our talented hygienists at Acre Wood Dental, under the direction of our dentists. During a dental cleaning, we will:
Clean, dry, and polish each tooth to a beautiful shine
Examine each tooth for signs of decay or damage
Perform an oral cancer screening
Check existing restorations for any needed repairs
Take a series of dental X-rays to fully understand your smile
Apply topical fluoride treatment
Review your dental history and any questions you may have
We suggest you come and visit Dr. Johnson, Dr. Kennedy and Dr. Olzack at least once every six months and as you notice signs of decay. If it has been some time since you have been to the dentist, we invite you to call us today and schedule an appointment for a dental exam and teeth cleaning in Waco, TX. We hope to hear from you soon!