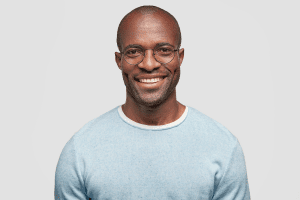 Our dentist, Dr. Johnson, may suggest dental crowns to help restore your smile when decay or injury jeopardizes a tooth's health. Nobody will be able to tell the difference, thanks to our dental crowns in Waco at Acre Wood Dental! Additionally, as proof of our commitment to being an all-inclusive dentistry practice, we provide same-day crowns to Waco, Temple, and Gatesville residents. This service enables patients to have their crown completed quickly and conveniently, saving them time and hassle.
What are Dental Crowns?
Dental crowns are a common type of dental restoration used to restore both the functionality and beauty of a damaged tooth. Tooth-shaped caps, known as dental crowns, encase a tooth up to the gum line. Dr. Johnson guarantees each dental crown fits properly and looks natural with the rest of your smile. 
When are Dental Crowns Recommended?
Generally, we recommend dental crowns when a large portion of your original tooth structure has been lost or damaged. Dr. Johnson may suggest a dental crown in Waco, Texas, to:
Repair moderate to severe tooth decay and damage

Prevent a weak or cracked tooth from breaking

Hold a broken tooth together

Repair a misshapen tooth

Support a large filling or root canal treatment

Anchor a dental bridge in place

Complete a dental implant
Thanks to advances in modern technology, we can design, create, and place your dental crown in just a single visit to our office. 
Same-Day Dental Crowns With CEREC Technology
One of the most remarkable treatments for replacing teeth is a dental crown. Due to the time it takes for dental labs to create custom crowns, most procedures that call for crowns are prolonged for weeks. Patients may feel inconvenienced and stressed out about their treatment due to this.
Our dentists and dental staff put a lot of effort into staying up to date on the most recent developments in dental technology and treatments. We use cutting-edge dental technology, like CEREC one-visit restoration technology, to help us give you the most outstanding dental care and experience possible. With CEREC technology, our staff can design a high-quality, personalized dental restoration for you in only one visit to our office.
Benefits of CEREC Dental Crowns
A skilled and experienced dentist like Dr. Johnson can design and install your crowns in only one session, thanks to computer-aided design (CAD) and computer-aided manufacture (CAM). The imaging of your teeth and jaw and the production of your personalized crown is made possible by these two technologies working together. CEREC crowns provide a level of comfort identical to that of your natural tooth by expanding and contracting as natural teeth do. However, there are a lot more benefits to same-day CEREC Crowns.
Restorations that are durable and long-lasting

Less invasive restorations that preserve more of your original tooth's structure 

Fewer painful injections

Fewer dentist appointments

A more affordable option

Biocompatible solutions
Same-Day Porcelain Dental Crowns in Waco, Temple, and Gatesville
Our system will take a digital image of your tooth, create a model of your new crown, and then fabricate it in a fraction of the time required for traditional fabrication methods. Our dental crowns at Acre Wood Dental are made with porcelain that can match the color of your natural tooth. 
Porcelain Dental Crowns in Waco
If you have experienced damage to a tooth, we encourage you to contact our dental office today. Our next-gen technology and approach have helped us transform the lives of many patients. 
Same-day porcelain crowns offer convenience and affordability. Make an appointment with Acre Wood Dental immediately to experience the comfort of in-office dental crowns. We are eager to help restore your smile!