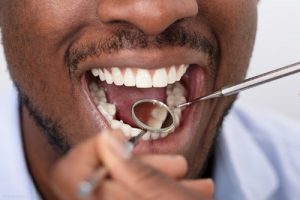 If you are missing one or more teeth, Dr. Johnson, Dr. Kennedy and Dr. Olzack may recommend you consider dental bridges. A dental bridge is a permanent dental restoration ideal for replacing a single tooth or multiple teeth that are missing in a row. There are many types of dental bridges in Waco, TX, available to meet any of your individual dental needs:
Traditional dental bridges – This is the most common type of dental bridge. A traditional bridge uses two dental crowns to anchor a false tooth, known as a pontic, in place. The dental crowns are placed on the teeth on each side of the gap.
Cantilever bridges – Cantilever bridges are similar in function to traditional dental bridges but are used when there are no natural teeth on one side of the gap.
Resin-bonded bridges – Also known as Maryland bridges, resin-bonded bridges use metal clasps and bonding cement to hold your new tooth in place. Resin-bonded bridges are great for patients who are missing their front teeth.
If you would like more information about dental bridges, we invite you to call us at Acre Wood Dental. We would be happy to answer all of your questions and help you schedule your appointment with our dentists. We look forward to helping you restore your smile!