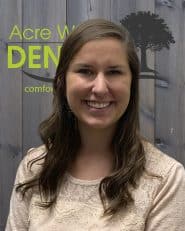 Do you need a dentist in the Waco, Temple, or Gatesville areas? Meet the team at Acre Wood Dental. We offer quality dentistry for the entire family, and you'll find an office near you. Our services include cosmetic dentistry, teeth whitening, and more. We're here to serve you and ensure your dental needs are met in McLennan, Bell, or Coryell County.
Three Convenient Texas Locations
We have three locations to serve you better. Our Waco office is located at 4000 Bellmead Drive, Waco, Texas, 76705. Our Temple office is located at 5519 SW H K Dodgen Loop, Temple, Texas, 76502, and our Gatesville office is located at 105 N Lutterloh Avenue, Gatesville, Texas, 76528.
We Serve the Waco, Texas Area
Dr. Johnson and his friendly, experienced team will deliver quality dentistry that will make you smile in Waco. Schedule an appointment today and come see us if you are looking for a dentist in 76633, 76643, 76657, 76701, 76702, 76703, 76704, 76705, 76706, 76707, 76708, 76710, 76711, 76712, 76714, 76797, 76798, and 76799.
Our office is conveniently located just off the intersection of the North Loop 340 and State Highway 31 West. We look forward to seeing you soon. 
We Serve the Temple, Texas Area
Acre Wood Dental proudly delivers the highest-quality dental services in the Waco, Texas, area. We can provide dental solutions for your needs in 76501, 76502, 76503, 76504, and 76508.
We're easy to find on the West side of Temple. We're right off the SW H K Dodgen Loop near the intersection with West Adams Avenue. Just look for our one-story tan brick building with a tile roof.
We Serve the Gatesville, Texas Area
We provide excellent general dentistry, family dentistry, cosmetic dentistry, and more to Gatesville area residents. Call today, and we'll take great care of you if you are looking for a dentist in 76528, 76595, 76598, and 76599.
You'll find quick access to our Gatesville office. Just head North on Lutterloh Avenue from East Main Street, and you'll see our one-story, white brick building less than a block up on the left. If you get to Saunders Street, you've gone too far!
The Services We Offer in Texas
We're proud to offer these excellent services in the great state of Texas. Whether you live in Waco, Temple, or Gatesville, we have a dental solution to meet you and your family's needs, including:
-Dental exams and cleanings: We recommend that you have a dental exam and cleaning in Waco, Temple, or Gatesville, Texas, every six months to prevent cavities, gum disease, and other dental problems.
–Dental fillings: If you have a cavity, we can carefully fill it with a tooth-colored composite resin filling.
-Dental crowns and bridges: A dental crown can be used to restore a tooth that is cracked, broken, or otherwise damaged. We can use a bridge to replace one or more missing teeth.
-Dental implants: Dental implants are a popular and effective way to replace missing teeth.
-Invisalign: If you are unhappy with your smile, we can use Invisalign clear braces to straighten your teeth gently.
-Teeth whitening: We offer both in-office and at-home teeth whitening to help you achieve a shining white smile.
We know many people have dental anxiety, but we want to help you feel comfortable during your visit. We offer sedation dentistry for those who need it. Don't put off your necessary dental appointments!
Schedule An Appointment in Waco, Temple, or Gatesville
No matter where you live, we invite you to come down and meet the team. You'll love our comfortable office and our friendly staff. With our vast range of services and experienced team across three convenient locations, we can help you achieve the perfect smile. We want to ensure your visit is as pleasant as possible, no matter where you live. You'll be in good hands with us in Texas.
Please schedule an appointment today on our website. You'll find us just down the street from where you live – see us and let us show you what we can do for your smile.